Christmas Beer and Food Pairings
You've mastered the art of roast potatoes, cooked the perfect Turkey and even managed to make sprouts appealing but now what to drink?
We've put together our favourite flavour combos so you can match your impeccably prepared multi-course dinner with an equally complimentary beer.
Read on for our favourite picks:
---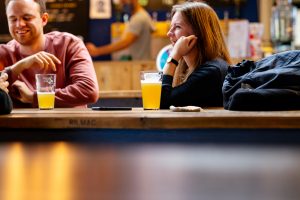 Beer can be the perfect complement to a fantastic dining experience as equally as it can become a disaster if it's done wrong. The wrong beer with the wrong food can completely cancel out the key flavours or in part be dwarfed by a rich and intense meal.
When looking for the perfect beer pairing, three key characteristics should guide your choice: Complement, Contrast and Cut.
---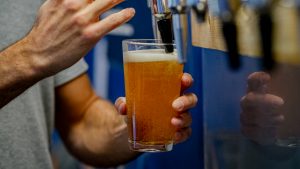 Complement: You wouldn't sprinkle garlic on a Tiramisu; the same goes for beer and food pairing. Matching flavours, in most cases, is a sure-fire way to get things right.
Got a chocolate fudge cake on the menu? Pair it with a rich chocolate stout. If you're serving pineapple rice, a beer with pineapple hop qualities could be the perfect match.
Contrast: You've mastered your complimentary flavours, and now it's time to flip things on their head. If you're pairing food with a contrasting flavour, you want to look out for a beer that has an opposing flavour or aroma to the food you're serving. Two flavours that are going to play off each other and really make each other sing without drowning either one out.
Take sweet and sour, both flavours that can be seen as overpowering on their own, but when played off together create the perfect harmony. The aforementioned chocolate fudge cake that you were planning on pairing with an equally sweet stout, why not pair it with a chilli barley wine instead as a stark contrast to the sweetness of the cake.
Cut: The last in the all-important three C's is Cut. Similarly to contrast, you're looking for a feature in the beer that plays off the other, but with Cut, we focus in on textures and sensations. Maybe you've served up a spicy curry and want something to bring down the heat, the refreshing citrus flavours of an IPA or lager help cut straight through chilli heat, refreshing your palette each mouthful. Equally, a beer with high carbonation is ideal for cutting through fatty meats.
So what does this all mean for Christmas? You might not be planning on offering a perfectly paired seven-course meal but check below to see our top pairings for some Christmas classics.
---
Smoked Salmon Brunch: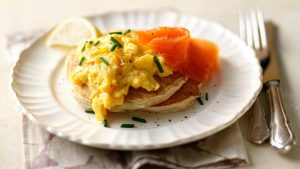 The most luxurious of brekkies, the delicate fattiness of the salmon, is lifted entirely by a crisp, balanced lager. Paired with a glass Belleville London Steam, the subtle citrus hop notes contrast the smokiness of the salmon whilst the light carbonation cuts through the fat on the palette. A lightly smoked Porter or Altbier also works wonderfully to complement those delicate smokey flavours.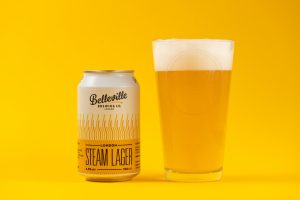 ---
Pigs in blankets: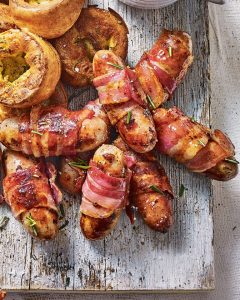 Great with most roast meats but especially good with everyone's favourite side, pigs in blankets pair perfectly with a rich and roasty porter like Belleville Prêt à Porter. The roastiness of the coffee subtly complements the smokey bacon and sausages whilst the fruitier hop notes cut through the intensity of the meats. Prêt à Porter pairs equally well with a rich joint of roast beef.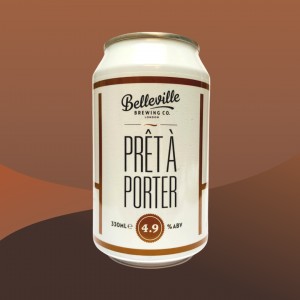 If you're sticking to tradition and roasting white meat like Turkey, keep things light with a traditional English Bitter or sweeter German-style beer like a Dunkelweizen or Vienna style Lager.
---
Cheese Board: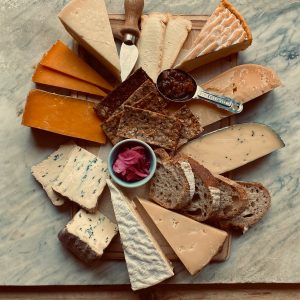 Potentially the best part of the whole Christmas period, the cheeseboard.
An incredible cheese deserves an equally incredible pairing, and you won't find a better combination than a strong, creamy blue with a bold and bitter IPA.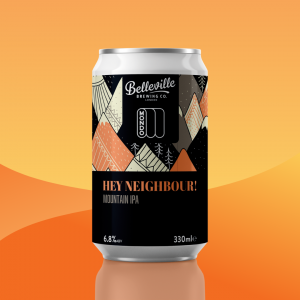 A strong flavour needs matching with an equal level of alcohol, so we recommend pairing an intense blue, with a bitter and fruity IPA like our new Mountain IPA Hey Neighbour! The carbonation cuts through the fattiness of the cheese with the bitterness of the hops standing their ground in contrast to the funky blue.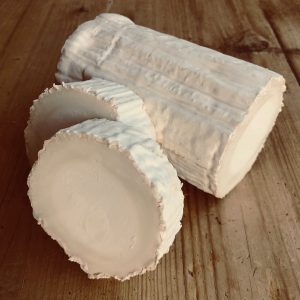 Lighter IPA's such as our Thames Surf or Picnic will work brilliantly with a strong cheddar, and a herbal pale will sit perfectly alongside a creamy, sharp goats cheese. Alternatively, mix things up with a baked Camembert paired with an intense fruited sour.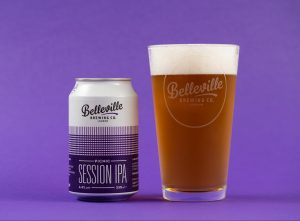 ---
Get your beer selection sorted by picking up one of our mixed core cases to fill the fridge or our new Hop Box for the big day. The last date for nationwide delivery is Sunday 20th December or Tuesday 22nd December if you qualify for free local delivery.
You can also pop into the taproom to fill a growler of draft or take your pick of guest and Belleville beers in the fridge.
Back