We are excited and honoured to support
The Ukrainian Air Force
My son has had an ambition since the age of 4 when we took him to his first airshow at Farnborough. Since then we have visited many airshows including the Royal International Air Tattoo (RIAT) every year since 2005.
When we visited in 2018 The Ukrainian Air Force demonstrated the Sukho1-27 and in it's Baltic camouflage it was a star of the show. My son got to meet the pilot; Colonel Oleksandr "Grey Wolf" Oksanchenko. Like every pilot we have ever met he was charming and happy to talk about flying.
On 25th February Colonel Oksanchenko was shot down and killed.
We at Belleville have created a few charity beers but it's rare that we are inspired to such a degree to honour a great pilot and support the plight of Ukraine. "Grey Wolf" is now being poured in lots of pubs and bars around London and we hope that if you see it you will but a pint or two.
We are donating the profits to the benevolent fund of the Ukrainian Air Force in the hope that it will go a small way to help it's servicemen.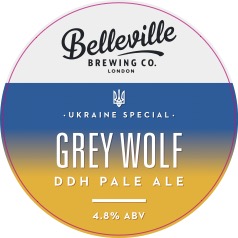 Back